Having a ring that doesn't fit is a very common occurrence. Your partner may have known not the ring size when picking out your engagement ring or wedding ring. You may have inherited a precious family heirloom, have gained or lost weight or you may have picked up a steal on Amazon where the bargain price compensated for the poor ring fit.
Because having an ill-fitting ring is so common, there are plenty of jewelry stores that sell fine jewelry that also offer a ring resizing service. Many will offer it as part of the purchase price, especially in the case of engagement and wedding bands.
How resizing is tackled depends on the type of ring and also whether the ring is too small or too big. There are permanent and temporary solutions and your professional jeweler will advise accordingly to achieve a perfect fit.
Your ring is too big if:
Your

ring spins

around your finger and won't stay upright

It moves up and down the finger constantly 

It slides off when you shower or wash your hands

You're concerned it's going to fall off when you make abrupt hand movements.
Take Immediate Action
If you want to continue to wear the ring (especially if it is your bridal jewelry) but are worried about its looseness until you can get to a jeweler, then you might use the rubber band wrap trick.
This is a temporary DIY ring fix that will ensure your loose ring stays safely on your finger. A good old-fashioned rubber band will do the job. It is safe for your skin and won't damage the ring in any way.
The best choice is a small, transparent rubber band. Just slide it onto your ring finger and then place the loose ring over the top of it.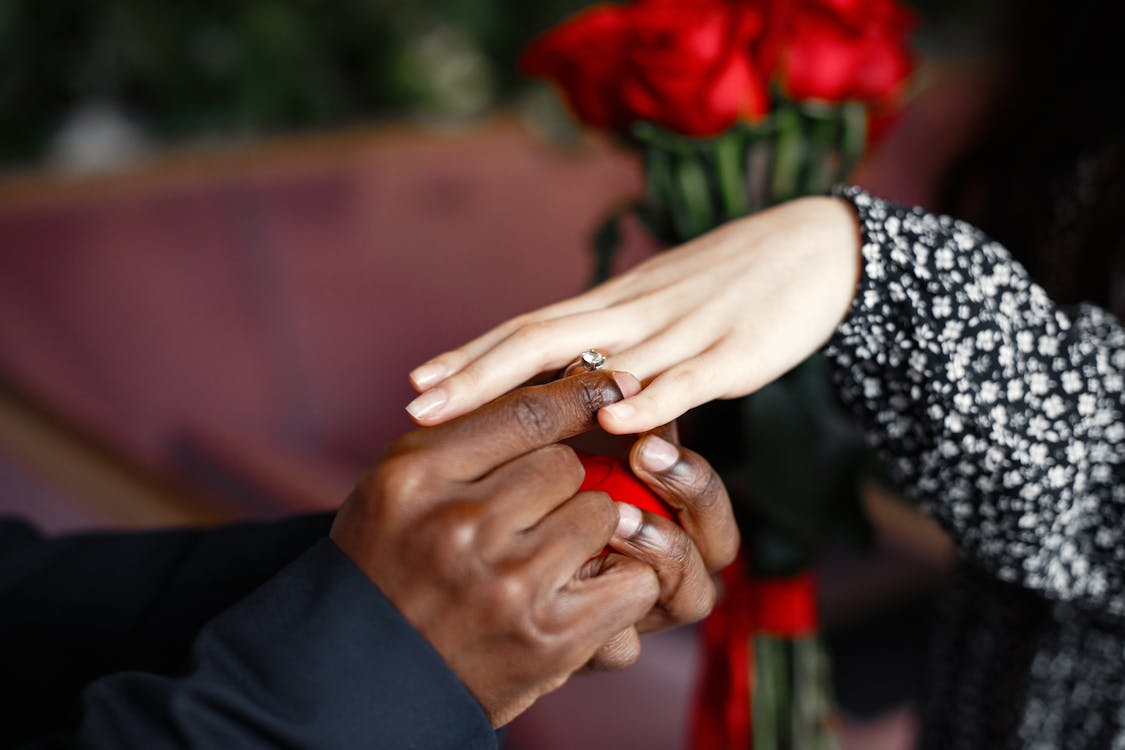 The band effectively thickens your finger and makes the ring a tighter fit.
Don't wear the rubber band for too long. It will perish more quickly than you think and like said, it is merely a temporary measure.
The various options for semi-permanent and permanent fixes are:
Ring Guard Or Sizing Bar
One of the first things that your jeweler might suggest is a ring guard or sizing bar. These are small adjusters that are most commonly made from plastic or silicone. They perform perfectly adequately as temporary size fixers.
They come in a variety of different sizes, and they work by being clipped to the inside of your ring. They are nice and small, so fit easily on the inside of the ring without being noticeable to anybody else looking at your hands or fingers.
A Spring Insert
A spring insert is a great resizing solution that your jeweler can install.
It is a small strip of metal, shaped something like a horseshoe, which springs back into a rigid shape after pressure has been placed on it. What this means is that you can squash down the spring to get the now smaller ring over the knuckle and then the spring open back up to fit snugly around the base of your finger.
Spring inserts are a less intrusive ring size adjuster than permanent resizing and are a popular solution for rings that are made from metals that are too hard to be fully or effectively resized such as tungsten, titanium, and stainless steel rings.
Metal Sizing Beads
If you're wearing a ring too big for your finger and a ring sizer shows it to be about half a size difference then something that you might want to consider is sizing beads.
Sizing beads come in the form of two small metal beads that get soldered onto the ring band by a jeweler. This has the effect of reducing the inner space of the ring making the ring's band fit more snuggly.
Sizing beads do not impede the ring from slipping over the knuckle and they are a great option if the ring cannot be permanently resized.
Professional Ring Resizing
Sizing bars, spring inserts, and sizing beads are very good solutions for how to make a ring smaller without resizing. Sometimes, however, proper, permanent resizing is the best option.
Only a jeweler is qualified to advise this because the operation to alter the size of the inside of the band may involve cutting the band and or shanks and using materials like solder. A professional jeweler will be able to determine if a ring that is too big can be made smaller.
They can explain why a ring may not be able to be resized. For example, an eternity band that is a circle of diamonds or other gemstones cannot be made smaller. Typically, a viable ring can be resized by up to two sizes from its original size.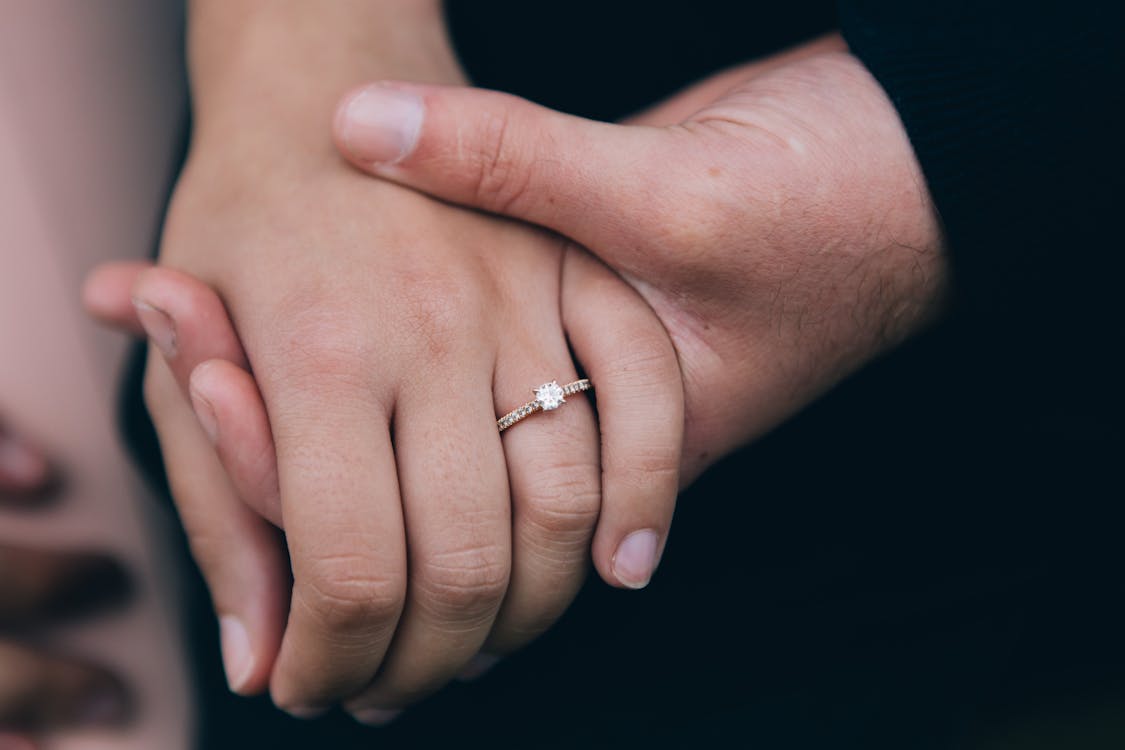 Your jeweler will use a ring sizer and also measure your finger. They will ask questions relating to the ring, such as how it currently fits, what you would find most comfortable, etc. The answers will enable the jeweler to determine the perfect fit for your ring.
There is also a bonus to getting your ring resized. Not only will you get your ring back in the perfect size for your ring finger, but it will also be in the best condition since it was completely brand new! For most jewelers, it is standard practice for the ring to be cleaned and polished after it has been resized.
Before you decide to take your ring for permanent resizing you should be sure it is the right time. If it is a temporary issue that means it isn't the correct size for your ring finger, then it is best to wait, for example, if you are on a weight loss journey or are pregnant. It is not always possible to resize a ring more than once. Wait until any sizing fluctuations have passed before getting the ring permanently resized. You can always use one of the temporary solutions mentioned above in the meantime.
What Not To Do
Everyone loves to pick up tips and hacks from the internet. They may seem such a good idea but often they cause problems other than the ones they're designed to resolve.
Your fine jewelry deserves only professional attention so there are two commonly shared hacks that you should avoid at all costs.
The Nail Polish Hack: People advise that you can reduce the inner size of the ring by painting a few coats of clear nail polish on the band. Do not do this. the nail polish can chip and peel and it may react with the metal of your ring, damaging it. Nail polish remover may also cause damage.
The Candle Wax and Hot Glue Hack: This involves "painting" the inner band with either glue from a craft gun or melting candle wax. Again, avoid doing this to prevent damaging your ring.
If you care enough about a ring that you wear often being too big, then you should care enough to have it dealt with professionally.